Dog Wash Near Me Archer FL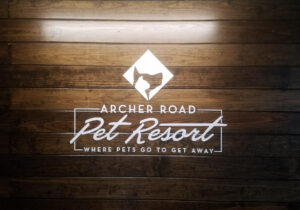 Archer Road Pest Resort – where pets go to get away!
Archer Road Pet Resort is locally owned and lovingly operated by residents of Haile Plantation. The Erickson's and the Berdanier's, who are five people with warm hearts for cold noses! Archer Road Pet Resorts is happy to be able to offer bathing & grooming for your pet. If you're planning a vacation and you need to ensure your furry friend is in good hands — book a stay at our pet resort!
At Archer Road Pet Resort we offer the absolute best care for your pet during their boarding experience. Our kind and caring staff works very hard to ensure that all our guests have an enjoyable stay. With over 25 years of experience working with and in the pet industry we have taken the knowledge gained and have used it to help shape Archer Road Pet Resort into a place where our guests, truly can not wait to return.
Our team ensures every guest get plenty of exercise and interaction in our outdoor areas before returning to the comfort of their own private room. Our outdoor area is situated on over an acre of land giving room for even the most active of guests to play. We are also a full service grooming facility with 20+ years of experience we are able to service any breed or styles of cut desired. Whether our guest is finishing up a stay or just stopping in for a trim we would love to have you become part of the Archer Road Pet Resort Family.
Our team is able to handle all pets regardless of age, condition or temperament provided they are not overly aggressive to people or other dogs or showing signs of contagious illness. Because we do not do group playtimes, we are able to provide aggressive pets a fun, safe place away from other pets.
Dog Wash Near Me Archer FL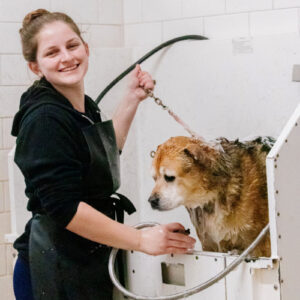 Grooming has long been a proud staple of Archer Road Pet Resort and with our Head Groomer Dusty Six leading the way we plan on continuing that tradition. We accept all breeds and coat types.
Bathing and grooming are essential to the over-all well-being of the animal and with 20+ years of grooming experience on staff and our 12 step bathing process you can rest assured that your pet is receiving the best care possible.
Our 12 Step bath service includes a bath using selected shampoo and conditioner, hand blow drying, brush out, ear cleaning, nail trim and anal gland expression. Prices for bath services vary based on breed, size and temperament.
Call Today!
Dog Wash Near Me Archer FL